There have been numerous documentaries made about champion boxer Muhammad Ali, but none have been told through the lens of his only biological son. In "My Father Muhammad Ali," 50-year-old Ali, Jr. details an estranged relationship with the three-time heavyweight boxing champion and the impact it's had on him and begins with him recounting an episode when he was abandoned by his father at a gas station in August 1984.
"It tore me up inside. I thought my father didn't care for me," he shares. It's a rejection Ali, Jr. attributes to Parkinson's, a disease the boxing legend was diagnosed with at age 42.
As the film progresses, we learn even more about Ali, Jr. and his struggles with bullying, abandonment, and his crack addiction. Shared, is the Daily Mail news article published shortly after Muhammad Ali's death in 2016 in which he talked about living on the poverty line for the last decade. It seems nothing has changed, and he is still struggling financially, receiving a monthly allowance of just over $1,000 dollars from his father's multimillion dollar estate.
The father of three daughters (one is featured in the documentary), Ali, Jr. who is studying for his General Education Development [GED], navigates through the documentary wearing symbolic t-shirts with his father's images and sprouting his father's familiar phrases as he tries to rekindle with his own daughters. He takes the audience back to his high school where he says he was bullied and the Benton Harbor property in Michigan where he would spend time with his father. There's also a visit to Deer Lake where Muhammad Ali would hold press conferences. It's there Ali, Jr. unsuccessfully attempts to start an anti-bullying campaign to continue his father's legacy with his best friend, Richard Blum, who also acts as his manager.
There are interviews with his mother, Khalilah Ali, (Muhammed Ali's first wife), Rahman Ali, (Muhammed Ali's brother), and Harvard-trained psychologist Dr Monica O'Neal who not only interviews Ali, Jr., but also attempts to explain his erratic emotions and behavior.
As the film continues, it's unclear what Ali, Jr. 's motive, beyond a financial one, is in making the documentary. Perhaps it's just a mere reflection of his life and there is some value for him in talking about the mistakes he has made as a parent, which he attributes to his own father.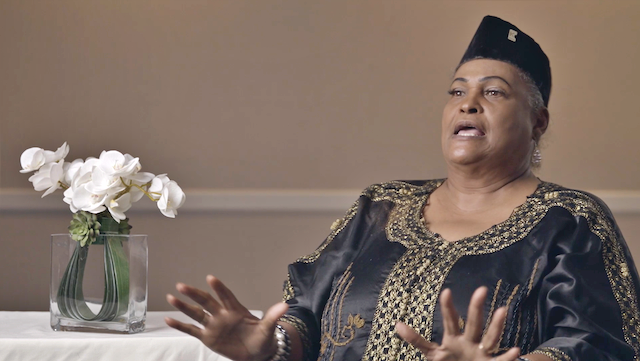 "You want one thing and life deals you with another," he shares in one scene. "I am admitting to my mistakes. People make bad decisions in life. No one is perfect."
With a striking score, "My Father Muhammad Ali" slightly struggles to tug at the heartstrings as it follows Ali, Jr., whilst he navigates through his turmoil, but it offers nothing new about one of the most significant sports figures of the 20th century and as he saunters off and the credits roll, you wonder, will he be okay?
Co-written and co-directed by Chad A. Verdi and Tom DeNucciis, "My Father Muhammad Ali" opens in select theaters ahead of Martin Luther King Jr. Day and will also be available On Demand January 13.
By Samantha Ofole-Prince. Photos courtesy of Verdi Productions